So... two things... first... I never realize how long-winded I am until I write a post like that last one. Two... an update on the Man Eater...
If you recall, three months ago (pre-blooming) it looked like this...
Today it looks like this...
Sad, I know. It has indeed shrunk (well, according to Josh,
technically
it hasn't shrunk so much as it hasn't maintained its size. Whatever).
AND, as if shrinking weren't enough... It's now majorly leaning...
I swear the camera was perfectly perpendicular to the ground for this shot. So... due to the obvious pain that the poor thing was in (as well as the threat that it posed to our carport (and my car)), Josh put it out of its misery today...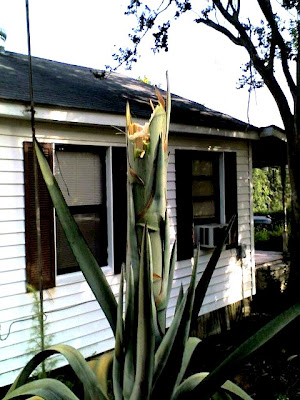 The End.